ROS Electric implements the latest in fire security technologies that ensure your personnel and equipment are safe and protected. Harnessing the fire system technologies available today is an invaluable way for a business to protect those assets that are most important.
Using an experienced fire alarm company for fire alarm systems installation will provide your business with peace of mind, knowing the system was installed and/or serviced by true professionals.
ROS Electric understands that each business may be different, but the need to protect employees, equipment and other assets remains the same. The best way to do so is to have a commercial security system installed, which includes a dedicated fire alarm system. With a commitment to customer satisfaction, you can be sure that at ROS, we hold ourselves to the highest standards. Our priority is to make sure you're satisfied with not only your fire alarm system and its installation, but the whole process from start to finish. We proudly offer free consultations to ensure that the commercial fire alarm security system effectively meets your needs. So whether you require large or small business fire systems, ROS Electric can help!
Fire Panel Installation & Servicing
Your fire panel is the heart of your fire alarm system. Even if it has been installed recently, regular maintenance and inspection will guarantee that your fire panel functions properly in the event that you need it. Our team can perform regular service of your systems to make sure that all equipment is up to date.
A fire alarm system for your business should only be installed and maintained by technicians who possess a fire alarm license. This demonstrates that they have the experience and expertise needed to ensure that your system is always at the ready to protect your business.
When choosing a detector, your business will have a few options. The first option is an addressable smoke detector. When it is installed by a professional like ROS, there are an array of benefits including the ability to quickly find the site of the emergency, reducing false alarms, monitoring each device's performance and more. These systems are very complex and should only be set up by a professional. A second option is a less sophisticated option: the conventional smoke detector. This can provide your business with the protection it needs when an addressable smoke detector is an impractical solution. Contact ROS Electric to learn which system is best for your particular business.
ROS Electric specializes in everything from commercial security systems and CCTV to stand alone control systems and more. Our experts will advise you on the best system for your individual needs and will provide professional and reliable installation and service.
Looking to upgrade your businesses fire alarm system? Don't trust your safety to anyone other than the best. Call us now to learn what systems will be best for your space and schedule a free consultation to discuss your fire and security needs.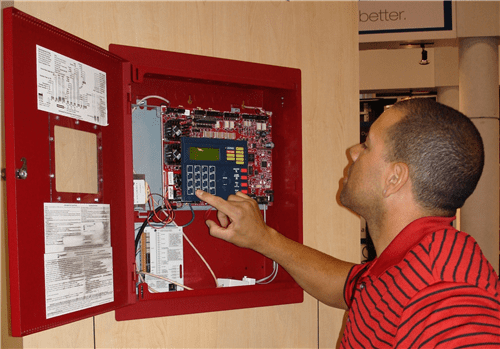 Fire Alarm System Service and Installation
Installation: Seamless installations executed by trained Nicet Certified professionals ensuring code compliance, so you can avoid potential fire code violations, and proper system performance.
Testing and Inspection: Testing, inspection, and compliance assurance for all life safety systems to ensure that your system meets national and local code.
Maintenance, Service, Troubleshooting and Help With Violations: Assistance with diagnostics, problem-solving, and troubleshooting in regards to any issues encountered with your system's functionality. If you've received a violation, we can help you remedy the issue. If you're going to having an inspection, we can come in prior to make sure you're up to code.
System Layout Consultations: From consultation, to design, to completion, we're with you every step of the way.
Features of our fire alarm systems include Fire Alarm Control Panels, pull stations, smoke detectors, heat detectors, carbon monoxide detectors, notification devices, door holders and more.
Compliance with National Fire Protection Association (NFPA) Standards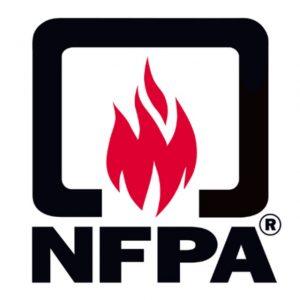 Six Reasons To Test & Inspect Your Fire Alarm Systems Regularly:
1. Lives are at stake! Your fire alarm system will only operate properly if it is maintained and some impairments will not be obvious without testing!
2. To meet the requirements of your local building department, fire inspectors, and even your insurance carrier.
3. Your insurance carrier may reject your claim if you do not have proof of complete annual inspections.
4. To limit your liability for any potential injuries suffered by tenants, employees, or guests to your business.
5. To assure that the system does not create nuisance alarms that waste Fire Department resources. This could put others' lives in jeopardy and many jurisdictions will charge the building owner for multiple nuisance alarms.
6. It is required by the National Fire Alarm Code! (NFPA 72)—- IT'S THE LAW
Trusted Fire Security Technologies in NJ
ROS Electric has years of experience handling the latest fire security systems in New Jersey. We can help you avoid the most common fire code violations and ensure your business or home has the best fire protection system. Whether you're looking for commercial or residential fire alarm and security equipment, ROS Electric can help!