Are you looking for an experienced electrical contractor in the greater Morris County, NJ area?  If so, look no further than ROS Electric. We have more than two decades of combined electrical contracting and cabling industry experience. Our reputation is flawless for good reason – we take pride in earning our keep and maintaining our title as the best electricians in Morris County. At ROS Electric, we serve businesses throughout Morris County, NJ, adhering to the highest possible standards for electrical repair.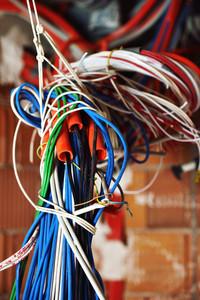 Our overarching aim is to please our customers to the point that they feel inspired to recommend ROS Electric to others who work and live throughout the greater Morris County, NJ area. Give us a chance to address your electrical challenges and we are confident you will be added to our growing list of customers who recommend our elite electric services to colleagues, friends and family.
How We Assist Morris County, NJ Businesses and Other Organizations
We are one of the most experienced and revered electrical contractors throughout all of Morris County, NJ.  If you have an electrical problem of any sort, reach out to our team and we will tailor a solution personalized to your unique challenge. From power and lighting to data telecommunication, the installation of camera systems for fire and CCTV, automated temperature control and beyond, we tackle electrical and cabling projects of all types. Simply tell us the electrical work you require and our licensed electricians in Morris County NJ will get right to work.
We are proud to say we have completed hundreds of commercial projects. We meet tight deadlines, honor our commitments and strive to forge mutually beneficial relationships with all of our clients. In fact, we even collaborate with a myriad of specialists ranging from designers to consultants, sub-contractors, suppliers and clients to provide highly specialized services.
Our Electrical Contracting Service in Morris County, NJ is a Call Away
Do not attempt to solve your electrical challenges on your own. Let our team tackle these highly nuanced projects on your behalf and you will have done your part to preserve the safety of your building as well as yourself. Our team has all the training and experience necessary to solve electrical problems in a thorough, timely and safe manner. You can reach us to find out more about our electrical contracting services in Morris County, NJ by dialing 201-796-2923 or filling out our convenient online contact form.